On the eve of the inauguration of President-Elect Barack Obama, the National Museum of American History has re-opened and is featuring on display a suit and top hat owned and worn by our 16th President, Abraham Lincoln.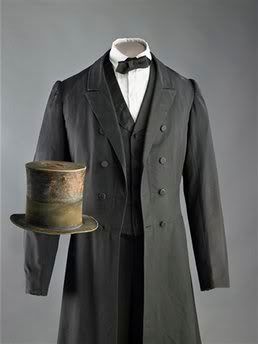 From the article on Yahoo...
"A black broadcloth suit and top hat worn by President Abraham Lincoln during his presidency is seen in an undated handout photo released by the Smithsonian Institution Thursday, Jan. 15, 2009. More than 60 objects from President Abraham Lincoln's life are going on display at the National Museum of American History days before President-elect Barack Obama's inauguration, which will echo themes from the 16th president".
Something pretty impressive to make plans to see if you are lucky enough to attend the inauguration!