February 1st Fashion Parade *Get the Look: Billie Holiday*

Get the Look: Billie Holiday
"Lady Day" was one of the greatest and most influential jazz singers of all time, known for her deeply personal interpretations, often melancholy sound, and her distinct phrasing, influenced by jazz instrumentalists.

Holiday appeared with big bands (she was one of the first African American women to appear with a white orchestra when she sang with Artie Shaw's band in 1938) and smaller combos, and she recorded extensively.

The most enduring image of Billie Holiday dates from around 1940: At the microphone, in a beautiful gown, gardenias in her hair, head thrown back. Explore her style with 40s rayon prints, dramatic, stage-worthy evening clothing, striking and exotic jewelry...and of course, flowers.
Find a
great vintage selection among the VFG member's offerings!
Vintage 50s Fabulous Tiki Print Cotton Halter Dress from
DENISE BRAIN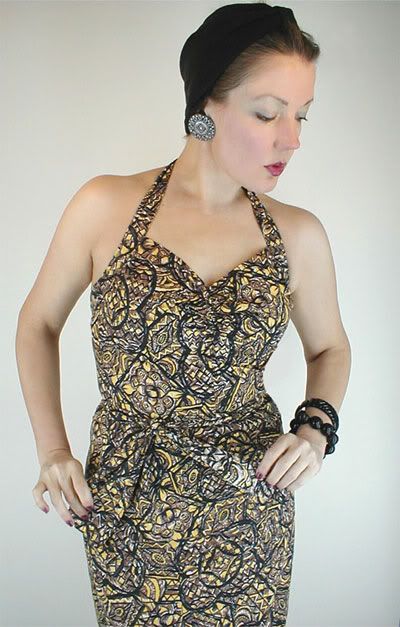 Vintage 40s Beaded Illusion Bodice Black Crepe Dress from
VIVA VINTAGE CLOTHING
Vintage 40s Black Rayon Dress Pink Beaded Accents from
MAGS RAGS