The cool, aristocratic charm of Grace Kelly was revered well before she became Princess Grace of Monaco. Sophistication, flawless natural beauty and a certain reserve give her look an iconic appeal to this day.
Characterized by unerring elegance, the actress-turned-princess was known for well-tailored suits, neat twinsets, full skirts, simple and effective evening gowns, pearls and long white gloves. She loved hats.
Grace's Helen Rose wedding gown made for a very royal wedding in 1956, when she married Prince Rainier of Monaco. Her namesake handbag came into being when Grace carried a Hermès bag to obscure her pregnancy months after her marriage.
See what Grace-worthy elegance the members of the Vintage Fashion Guild have in store...
1950s Beaded Blue Satin Gown previously sold by Past Perfect Vintage


White Pearl-beaded Gloves available at Joules Vintage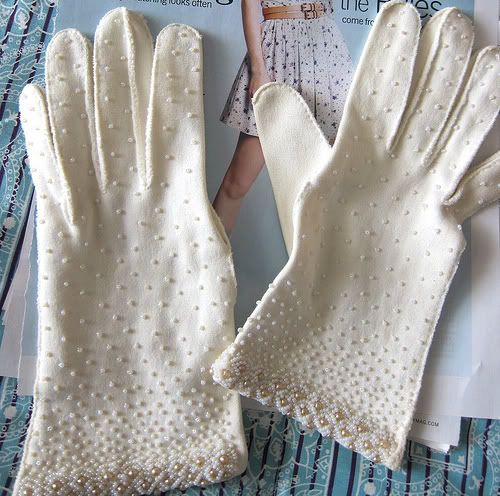 1950's Black Straw Hat With Side Bows & Veil from Viva Vintage Clothing

"You can find more fabulous vintage items from more sellers at the VINTAGE FASHION GUILD WEEKLY FASHION PARADE!